The Utah Falconz will be taking on Dallas in the IX Cup this year in Frisco, TX, the weekend of June 25th. We were the #4 seed in our conference this past weekend, defied the odds, and made it to the championship, taking out the San Diego Rebellion and the Denver Bandits along the way!
We are holding several different fundraisers to help our team raise money for the rising travel costs, and any contribution will help make an impact. Thanks in advance for your contribution. Below are some fundraisers we have currently in motion.
Purchase a 2022 Pacific Conference Champs T-Shirt
https://www.bonfire.com/utah-falconz-road-to-the-championship/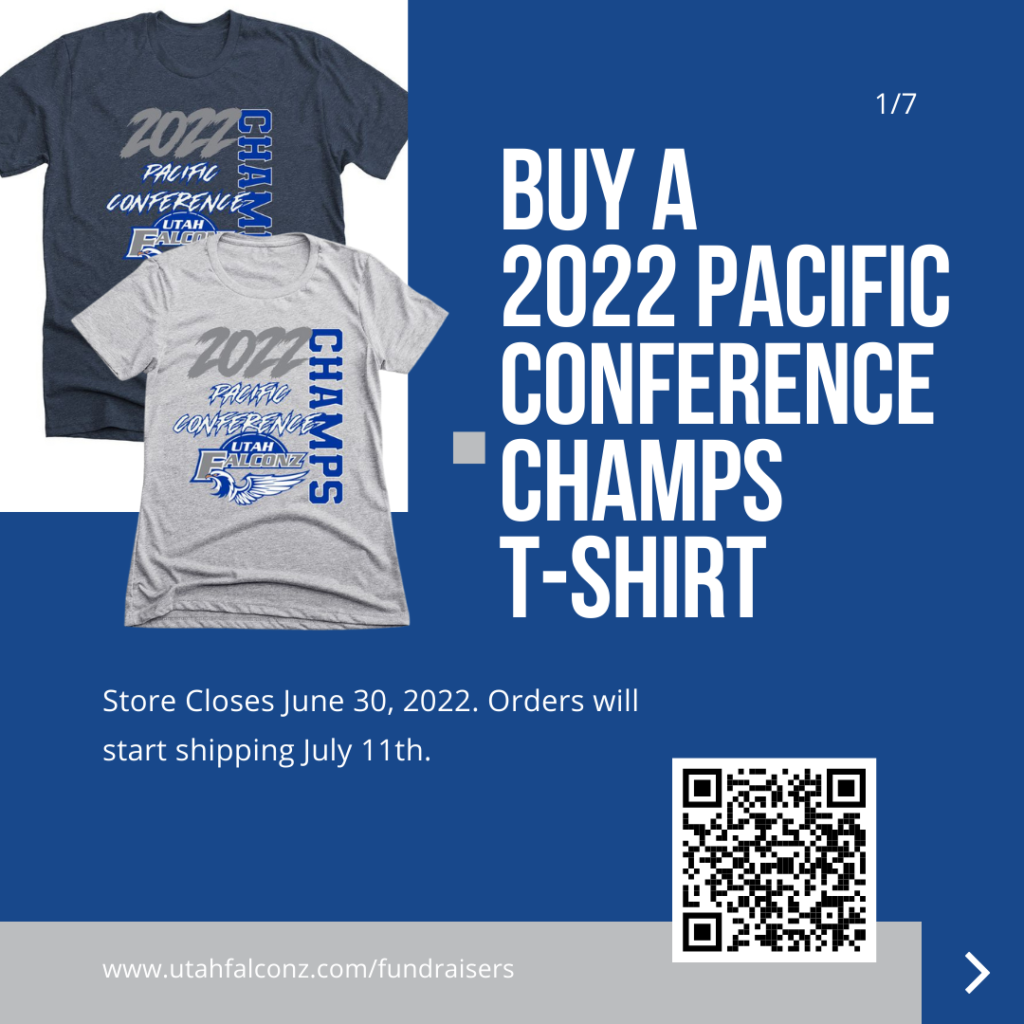 2. Quick Quack Car Wash: $10 for a card with your choice of one best car wash OR one month of unlimited car washes.
You can Pay for your card through Venmo @UTFalconz and be sure to Include: Name, Email , Phone, Address and note Quick Quack Car Wash in the comments.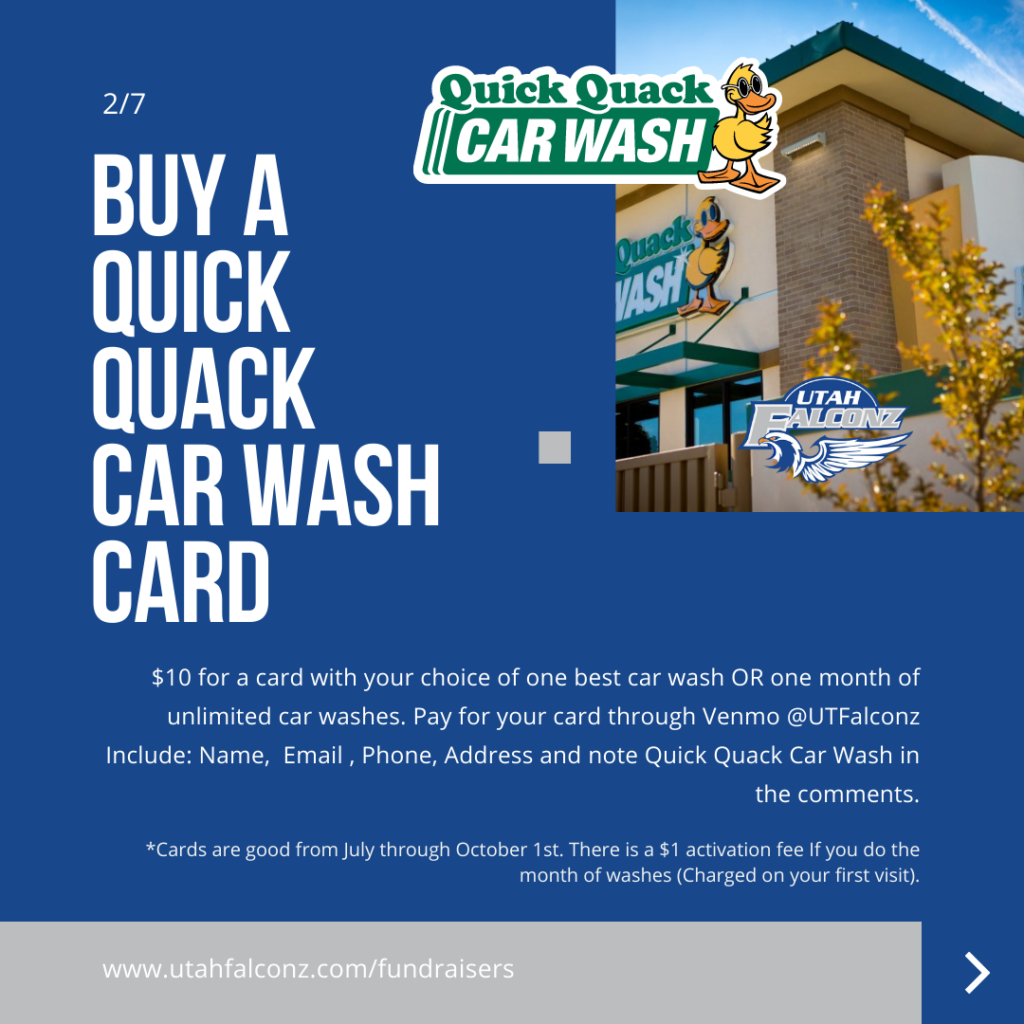 3. 2022 Opportunity Drawing: We are selling tickets for these wagons !! 1 alcohol wagon worth well over $500 and a Non- alcohol wagon well worth over a couple thousand !!!
Tickets are $10 each or 12 for $100. We will draw names July 1st right before 4th of July weekend !!! You can pay via venmo @Gina-26-Falconz , Cash app GinaMagana26 or cash !! Letssss go !!!!
(PS a couple things were added to the alcohol basket ill update picture later ! )
List of everything included in non alcohol wagon:
•2 stadium cushions
•1 60″X80″ Utah Falconz blanket
•1 Ten Ib box if Traeger Hickory pellets
•2 wooden painting by Kevin Taylor
•1 Small Long sleeve Falcon Tshirt
•1 3X Falconz hoodie
•1 4X WNFC X Falconz Tshirt
•2 free stretches by Stretch Zone
•4 Living Planet Aquarium tickets
•2 Quick Quack car washes
•$25.00 Buffalo Wild Wings gift cert.
•XXL Utah Falconz leggings
•$10.00 Gracies gift card
•2 Green Adventure Sport Rentals (1 day rental kayak, canoe or SUP)
•2- 2 for $25 Applebee's certificate
•2 Splash Summit good for one
•1 golf pass for 4 With cart The Ridge
•1 Pink Icing Bakery custom 6″ cake
•1 60 min massage Optimal Therapeutics
•1 30 min stretch Optimal Therapeutics
•1 signed team jersey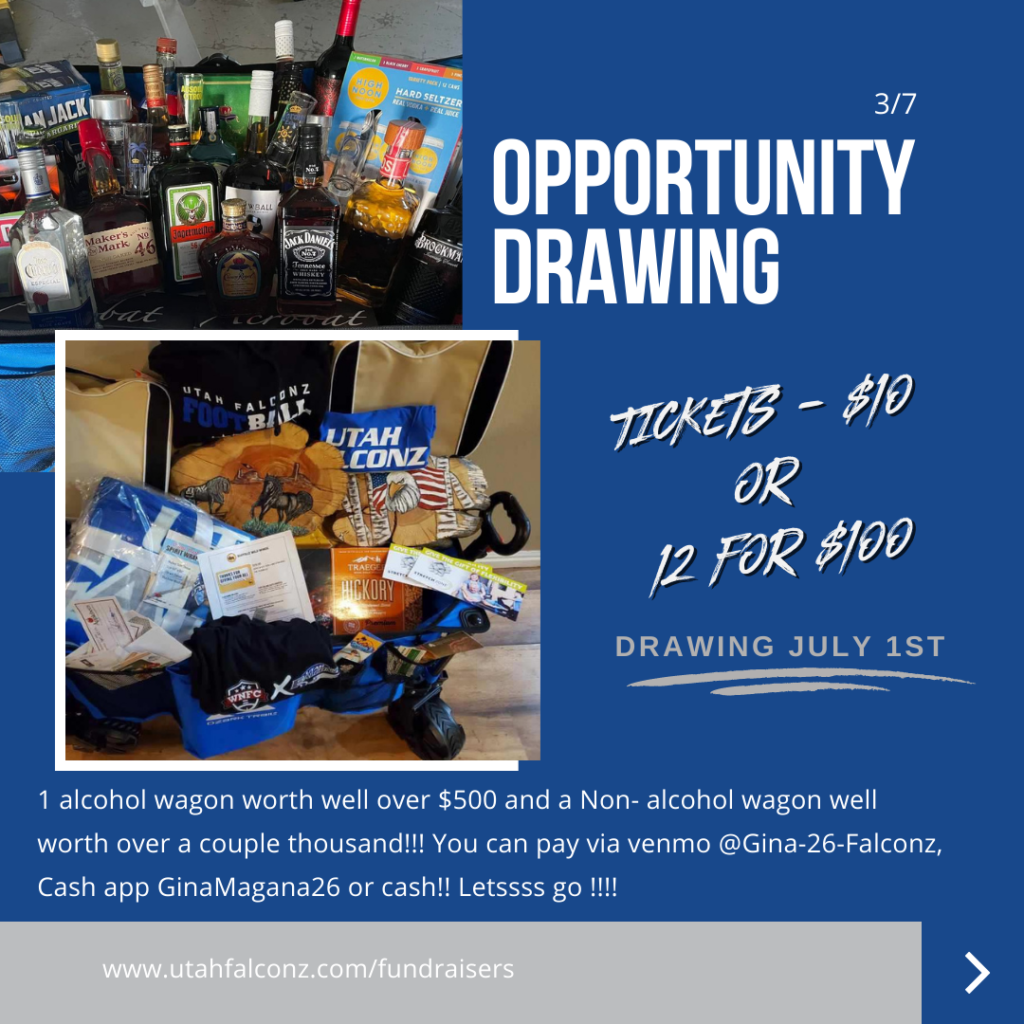 4. Free to you – just need your time Fundraiser: Local companies are giving back by sponsoring the registration costs for Utah Falconz participants and their families. Simply sign up and pick a service of interest to meet with a local company. After you meet, a sponsorship donation of up to $50 will be given in your name. You have no obligation to purchase, but an additional $75 donation is often given on your behalf if you do end up purchasing the product or service.
https://admin.gosponsr.com/support/iF3Ut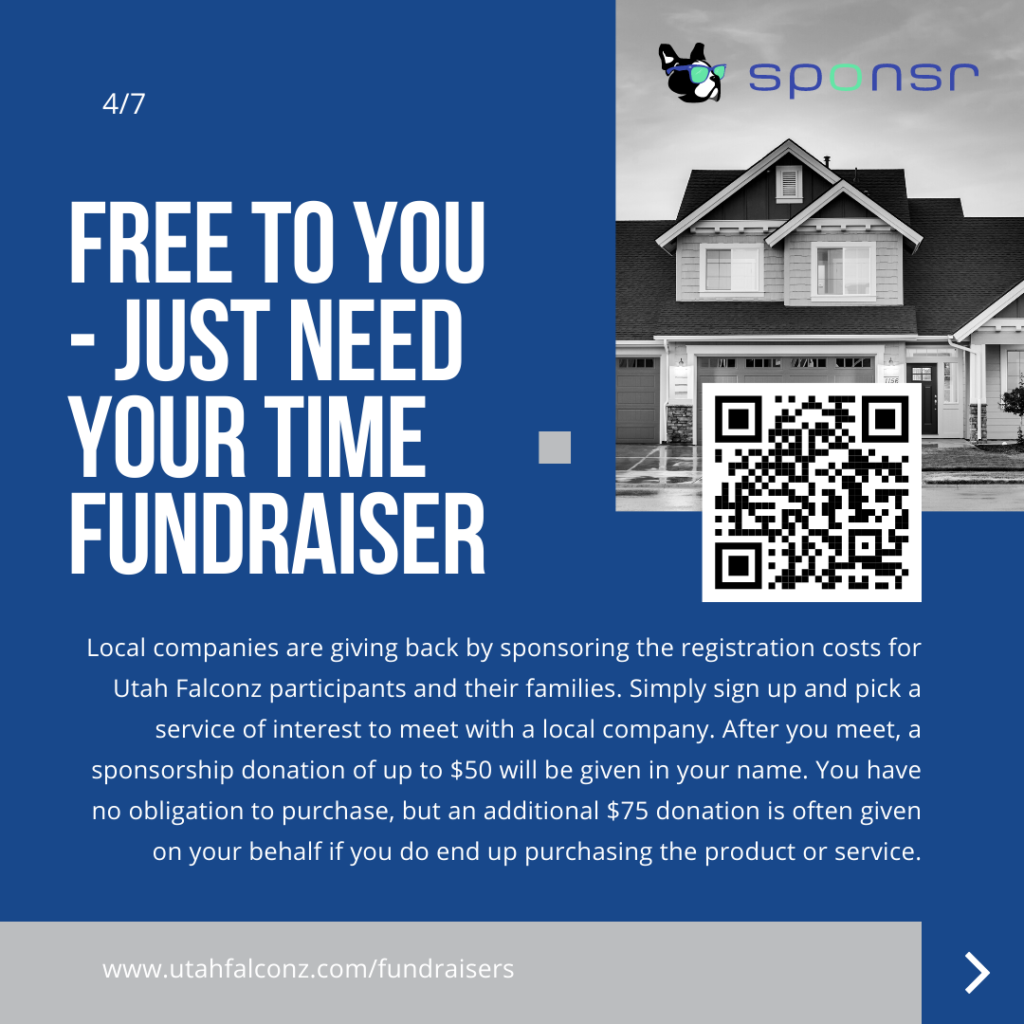 6. Massage and Teeth Whitening Gift Certificates: 50% of the proceeds from the sale of gift certificates for massage and teeth whitening will go to the Utah Falconz.
https://www.massagebook.com/OptimalTherapeutics/massage/deals/Help-Support-Our-Utah-Falconz-On-The-Road-To-The-Championship/89464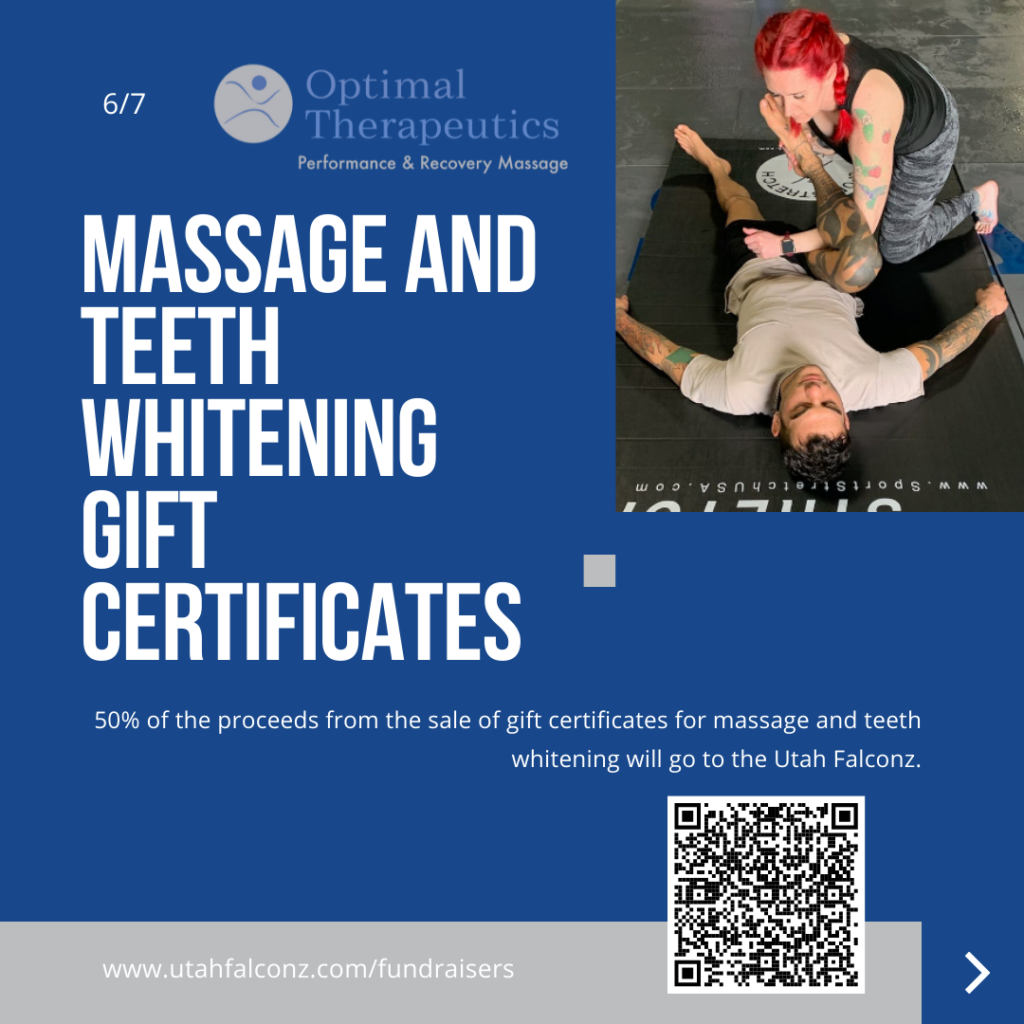 7. Make a Donation: If you would like to donate to the Utah Falconz you can scan the QR Code below to donate to our GoFundMe account or send a donation to our Venmo @UTFalconz and note "donation" in the comments.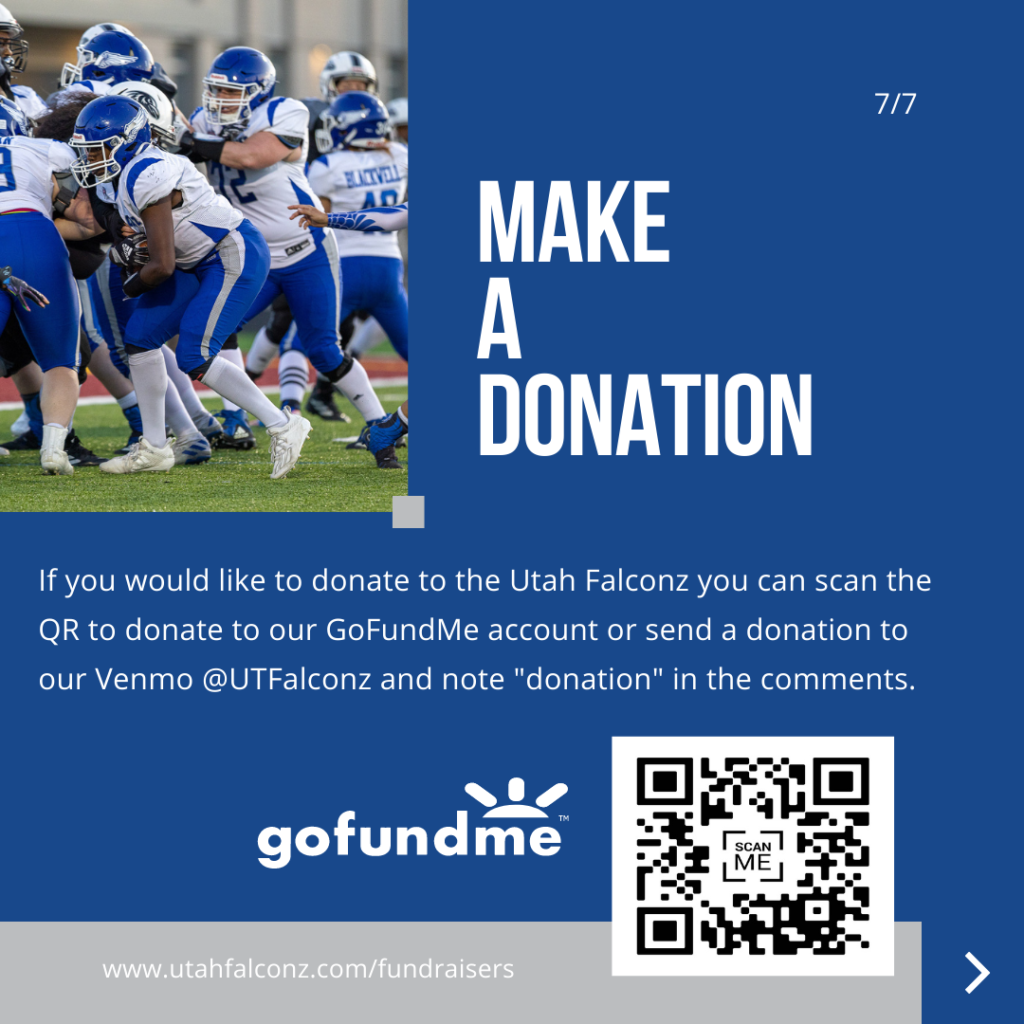 Thank you for your support!!!